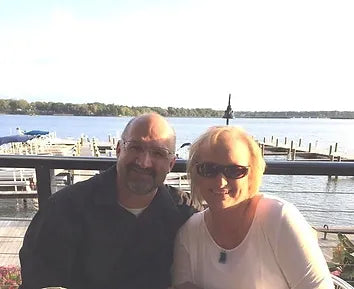 About the Owners
Greetings! I'm Dennis Brooks, and along with my wife Tonya, we're proud to carry on the legacy of Sharp Edges Sharpening Service and Hamaguri USA. We're thrilled you're here to learn more about our journey and the services we offer. We're eager to collaborate with you soon.
Our History
Founded in 1994, Sharp Edges has always been a family affair. Initially spearheaded by Larry Brooks, the business experienced rapid growth, prompting Larry to invite his wife Linda to manage the administrative side and delve into sharpening for the animal industry.
Milestones & Achievements
In 1999, Larry earned the esteemed title of Master Sharpener and became a member of the National Shear Sharpeners Guild (N.S.S.G.). That same year, he began showcasing his sharpening expertise at various seminars across the U.S., including events hosted by Huffs Wholesale, Sharpener's Report, and Wolff Industry™.
The Next Generation
I joined the family business in 1997, initially focusing on clipper repairs. A year later, I took charge of the Industrial Division and some of Larry's mobile routes, allowing him to concentrate on expanding other areas of the business. In 2006, I achieved Guild Member status at the N.S.S.G., and by 2008, I had earned the title of Master Sharpener.
Innovations & Training
Larry introduced the Hamaguri Sharpening System in 2000 and later initiated hands-on training programs. By 2003, we became an Authorized Training Center for Wolff Industries™, and in 2007, the exclusive distributor and training center for the Treyco Clipper Blade Sharpening System.
Expanding Horizons
In 2003, we moved to a new office and training facility. You can explore more about us at Sharp Edges Website. Both Larry and I have trained numerous individuals, contributing to the success of many Hamaguri owners.
A Three-Generation Legacy
In 2007, my son Matthew joined the family business, specializing in clipper blade sharpening. By 2010, he had earned his Master Sharpener status, making us the only three-generation equipment manufacturer for shear sharpeners. Together, we have over 38 years of sharpening experience.
Community Involvement
In 2008, Larry, Linda, and I co-founded the National Beauty Tool Sharpeners Guild (NBTSG), which we managed for three years. The organization is now run by a dedicated Board of Directors. Learn more at NBTSG Website.
A New Chapter
In 2012, Linda and Larry passed the torch to Tonya and me. We're committed to upholding the high standards set by our predecessors and look forward to serving you in the future.
Thank you for your interest in Sharp Edges Sharpening Service. We can't wait to work with you!